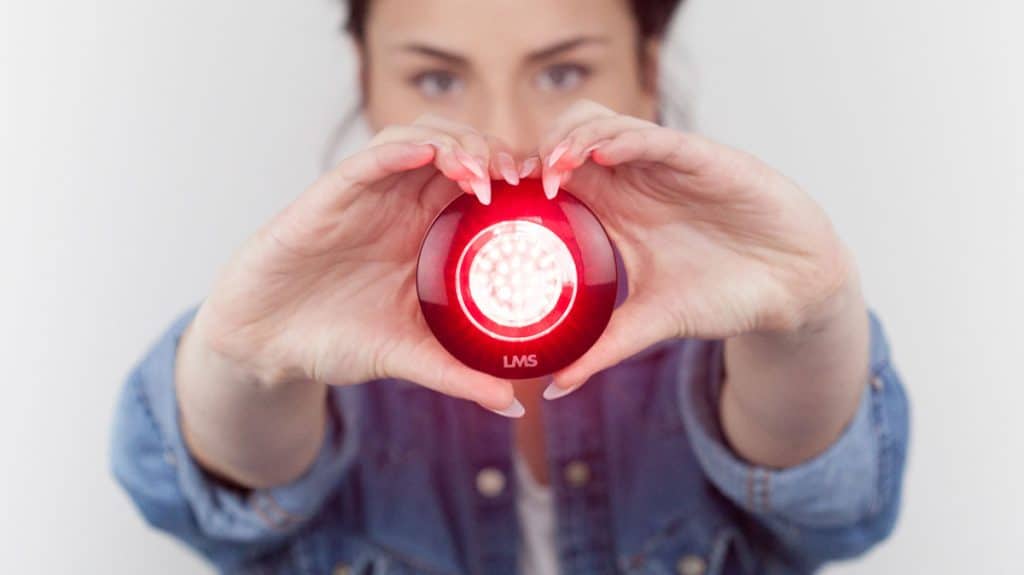 The Love My Skin Guide to the best beauty devices for Valentine's Day
Whether you're preparing for a hot date, or the perfect pamper evening in your comfies we've rounded up our beauty devices into this helpful guide to get you feeling and looking your best on Valentine's Day – and every day after that too, because we think you deserve it.
Hair free = Care free
Unwanted body hair is the number one question we get asked about online. Whether its leg hair, underarm, bikini, face or elsewhere, it can make you feel self-conscious and uncomfortable. There are many ways to remove body and facial hair – some are instant and short-term while others take longer but give a more permanent result.
Our answer to unwanted body hair is not instant, but it could last forever, and you can do it at home.
The Love my Skin Laser Hair Remover uses a unique 810nm diode laser – the most effective laser hair removal system on the market, as used by dermatologists. With this device you can achieve salon results at home in your own time, and for a fraction of the cost.
Laser Hair Removal might sound a bit scary and tricky but we promise that it is completely safe and requires nothing but the laser itself.
Our laser produces a single, concentrated wavelength of light that specifically targets the melanin in the hair follicle which achieves a more precise and effective result. You simply choose the section you want to treat, select one of the five comfort levels, touch the laser to the area of the skin you are treating and wait for the beep. It's really that simple.
With consistent use you could start to see noticeable results after one month, and after 3 months any hair follicles that you have deactivated through your treatments could cease to grow any hair at all.
Find out more about our Love my Skin Laser Hair Remover here
Clear Skin Therapy
The cold winter air combined with super dry heating can take its toll on your skin, throw in some Valentine's chocolates and you could be heading for a major breakout.
Our device for beautifully clear skin is our Love my Skin Clear Skin Red Light Therapy Range.
Red Light Therapy is your secret weapon for clearer, brighter and calmer skin. It is clinically proven to reduce inflammation and improve healing time for spot prone skin.
By forcing out the toxins that are caused by stressed out skin cells and encouraging oxygen to return, red light therapy is a natural way of improving your skin's own healing abilities.
Choose from our Clear Skin Compact for larger zones, or the Clear Skin Pen which hones in on more concentrated areas. Both devices are lightweight and easy to handle for beauty at home and on the go.
Find out more about our Love my Skin Clear Skin Range here
Ageless Beauty
It feels like everyone is looking for the secret to eternally youthful skin. We don't have a magic wand for wrinkle-free skin, but we do know what causes it.
As we get older our skin produces less collagen, which is why skin loses its plumpness and wrinkles begin to show. Red Light Therapy is scientifically proven to help stimulate and repair your skin, it's gentle enough for the most sensitive skin and works on all skin types too.
Our solution for younger looking skin is the Love my Skin Anti-Ageing Compact
The 32 regenerated red-light LEDs in our Anti-Ageing Compact will help to stimulate your skin's collagen production and promote a more even skin tone. It will also improve the appearance of brown spots by targeting the UV damage which is further beneath the surface of your skin. Use it on your forehead, cheeks and neck and slot it into your makeup bag for regular treatments alongside your regular skincare routine.
Find out more about our Love my Skin Anti-Ageing Compact here
Wherever and however you spend your Valentine's Day this year, remember that beauty starts from within, and learning to love yourself is the best place to start. Once you've managed that, a Love My Skin beauty device can make sure you continue to feel fantastic all year round!