Searching for a Long-term Solution
My name is Kristel, I am a 37-year-old mother of 2 living in Llanelli.  Since my late twenties, I have been plagued with embarrassing, dark facial hair on my jaw and upper lip, which has worsened over the years.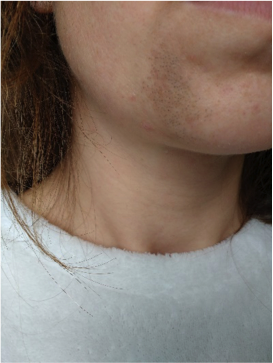 I have tried many different hair removal methods, including plucking, bleaching, waxing, home and salon IPL and depilatory creams, but sadly they have either been ineffective, too time-consuming or have aggravated my skin.
Having this problem has really knocked my confidence, making me feel less feminine and very self-conscious, I often feel like people are staring at me when I'm on the school run or out shopping.
The hair grows so quickly that I always end up checking my face and using a trimmer to get rid of any stubble before leaving the house, which isn't ideal.
I am due to start a placement in a School and have been desperate to find a long-term solution to my problem so that I don't feel embarrassed by my appearance around students and staff.
I have read a lot of articles recently about laser hair removal being much more effective than IPL for hair reduction so I had a consultation for salon laser treatment.  I was quoted £130 per session for what is quite a small area, so the high cost and the hassle of having to find time to attend the appointments put me off.
I also looked at a couple of home laser hair removal devices online, but the reviews and results were varied and some devices didn't seem to have a strong enough output to be effective.  Cordless ones had a short battery life, so had to be recharged frequently.
Then I discovered the Love My Skin laser hair removal device, which has the strongest laser output for a home device and is mains, not battery operated, making it much more appealing to me than the others.
I'm hopeful that the love my skin laser device will succeed in tackling my facial hair issue where others have failed and am looking forward to being able use to it in the comfort of my own home, at a time that suits me.